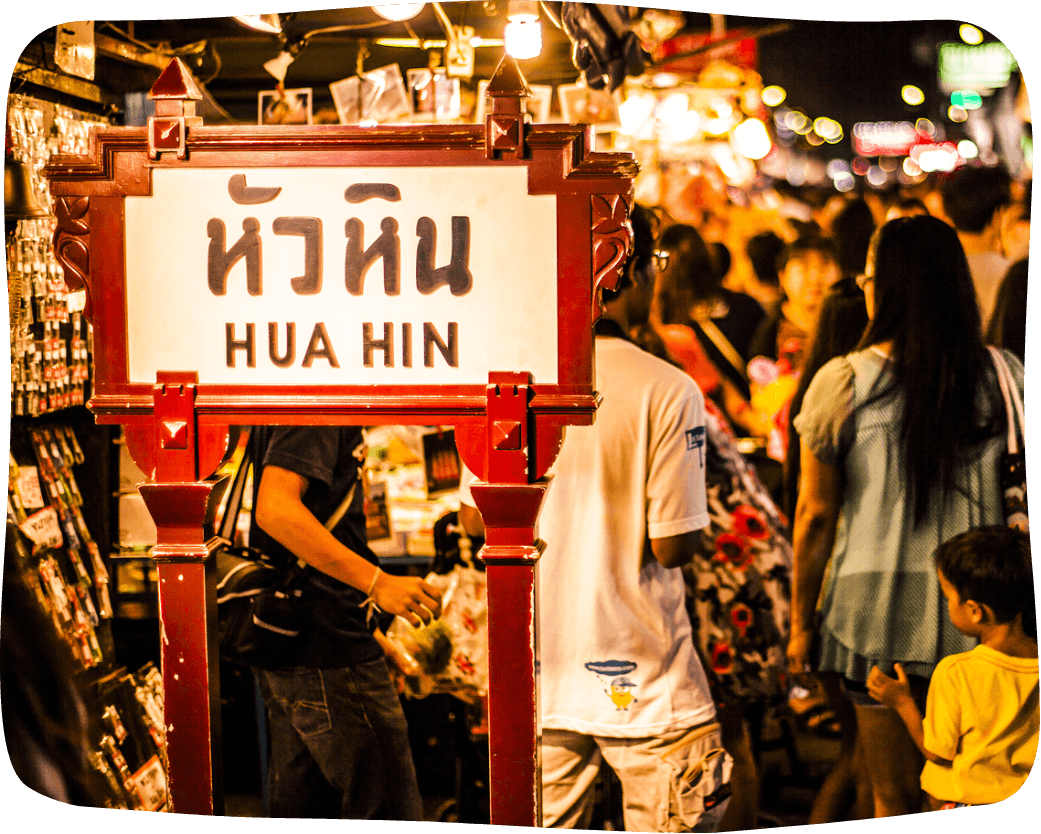 Since its discovery, Hua Hin has had a storied past. Originally just a small fishing village
known for its splendid white sands and a row of rocks that jutted out along the beach,
giving the village its name, Hua Hin ("head of rock"), its gentle beauty eventually reached
the ear of the royal court.
Shortly after World War I, the Southern Railroad Line was completed all the way to the
Malaysian border. Recognizing the charm of Hua Hin, in 1921 the director of the state railway,
Prince Purachatra, built the Railway Hotel close to the beach. HM King Prajadhipok (Rama VII)
liked the place so much that he built a summer palace there as well. Reflecting the area's
serenity, the palace was so aptly named Klai Kang Won: "Far from Worries"
Soon afterwards, the elite of Bangkok society flocked to Hua Hin, building gorgeous
residences along the waterfront. Its long, pristine beaches earned a lasting reputation
as Siam's true beach resort, where visitors could enjoy swimming and fishing, but also golf
on the country's first standard course.
Nowadays, Hua Hin's pleasures are not all that dierent from its aristocratic history, a blend of
regal elegance and a peaceful, scenic atmosphere.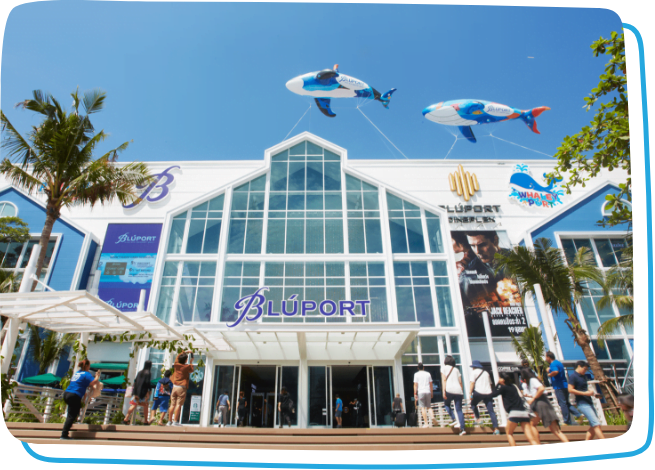 BLUPORT
8/89 Soi Moo Baan Nongkae,
Hua Hin, Prachuap Khiri Khan
THAILAND 77110
Open Hours
SUN – THU 10 AM – 9 PM
FRI – SAT, HOLIDAY 10 AM – 10 PM
Restaurants at GF and 2F
10 AM – 10 PM everyday
BLUPORT
The new landmark of Thailand's best-loved resort town, Hua Hin, is outfitted with all the ingredients to deliver the most delightful
shopping, lifestyle & entertainment experiences in a relaxing resort atmosphere, BLUPORT HUA HIN RESORT MALL is a unique
shopping complex and department store built with a mix of inspirations and ideas from the world's best-loved resort towns.
From the legendary Mediterranean charm of Cannes's boardwalk to the undying appeal of Lake Como, BLUPORT embraces
the earthly, relaxing atmosphere of the beach-side leisure, nautical vibes and the friendly exclusivity everyone remembers
during a memorable stay at a luxurious seaside resort.
Boasting a full line-up of most over 1,000 names in fashion, beauty, lifestyle and IT, as well as entertainment complexes designed
for the fun of both family and friends, it sets out to be both a shopping haven and also the new iconic anchor of Hua Hin and
the Western region by fulfilling all of life's desires for pleasure and style.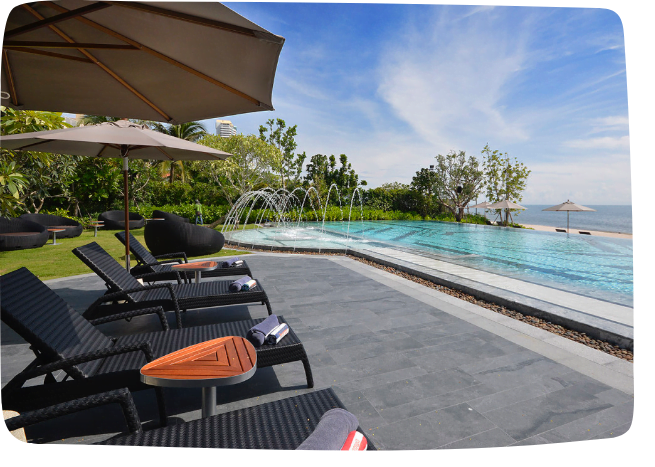 InterContinental® Hua Hin Resort
33/33 Petchkasem Road,
Hua Hin, Prachuap Khiri Khan
THAILAND 77110
Contact:
T: +66 (0) 32 616 999
F: +66 (0) 32 616 555
ichh.rsvn@ihg.com
InterContinental®
Hua Hin Resort
The InterContinental® Hua Hin Resort opened its doors in December 2009, revealing
a contemporary interpretation of classic Hua Hin style. Architecture by C Space drew
inspiration from the Maruekhathaiyawan Palace with its expansive verandahs and
intricate wooden latticework. Interior designer firm PIA echoed these motifs, while
lighting design was developed by Lifestyle. Swimming pool and landscape designer
Bert Collins created the resort's centerpiece, a 55-square metre infinity-edge pool,
complete with a fibre-optic system to create a twinkling starlight eect at night.
Since its opening, the resort has attracted a number of illustrious guests and continues
to evolve its experience of Hua Hin luxury.
Accolades
InterContinental® Hua Hin Resort, the royal resort's town's pre-eminent luxury heaven,
have been named 'Hotel Best Thailand' honours at the Asia Pacific Hotel Awards 2013-
2014 held in Malaysia. Since the resort opened in 1 December 2009, InterContinental
Hua Hin Resort® has appeared consistenly in 'Best of' award lists from the industry and
consumers, demonstrating its appeal accross dierent countries and divers, discerning
market segments. Apart from this prestigious awards, the resort has been voted the
'Winner of Excellence' according to an Internet survey conducted by TripAdvisor 2013
and we also have been selected 'Best of the Best' hotel quality selection 2013 by
HolidayCheck.com.
We are happy to have created a wonderful experience for our delighted guests and
look forward to welcoming them back again for repeat visits as well as hosting
those who wish to discover InterContinental® Hua Hin Resort for the first time.
For InterContinental's Guest, we provide complimentary access to Vana Nava Hua Hin.
Please contact our concierge.
True Arena
True Arena Hua Hin, Asia's premier sports complex and the largest, most
comprehensive sports center in the seaside resort town of Hua Hin.
True Arena Hua Hin oers incredible world-class facilities, state-of-the-art
fitness equipment and activities with personal trainers. Our flexible True Arena
Hua Hin accommodates fun, competitive sports such as basketball and
volleyball. A 4-story clubhouse, all sizes banqueting, wedding and conference
spaces, a scrumptious all day restaurant, as well as a rooftop pool with
gorgeous views of Hua Hin — all of this puts TANN firmly on the map as
a leading recreation and sports destination in Thailand. Center Court, our main
tennis stadium for world-class tournaments, with a capacity of over 5,000 seats
and a sunken court design unique to Southeast Asia, and ten new plexicushion
tennis courts keep tennis an exciting highlight at TAHH.
Two FIFA regulation soccer pitches designed to host international teams round
out the top-name TAHH experience with yearlong attractions and events.
True Arena
52/52 Petchkasem Road,
Hua Hin, Prachuap Khiri Khan
THAILAND 77110
Contact:
T: +66 (0) 32 909 633
info@truearenahuahin.com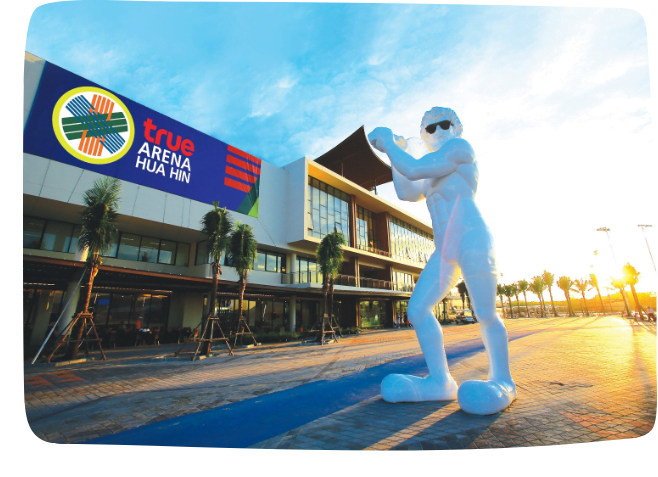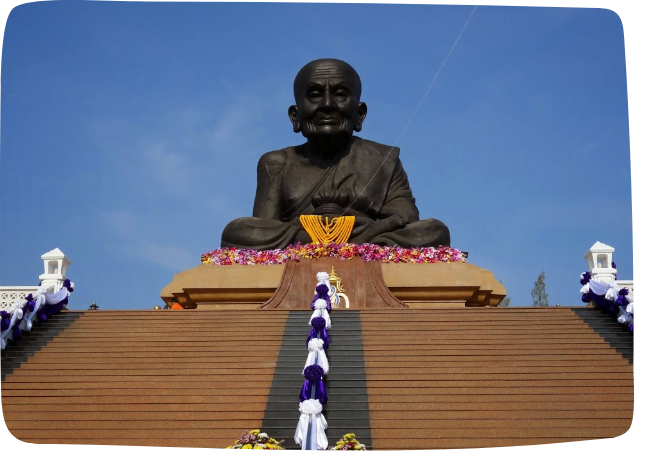 The Wat Huay Mongkol temple complex located some 15 kilometers west of Hua Hin is famous for its enormous statue of one of Thailand's most famous monks, Luang Phor Thuad.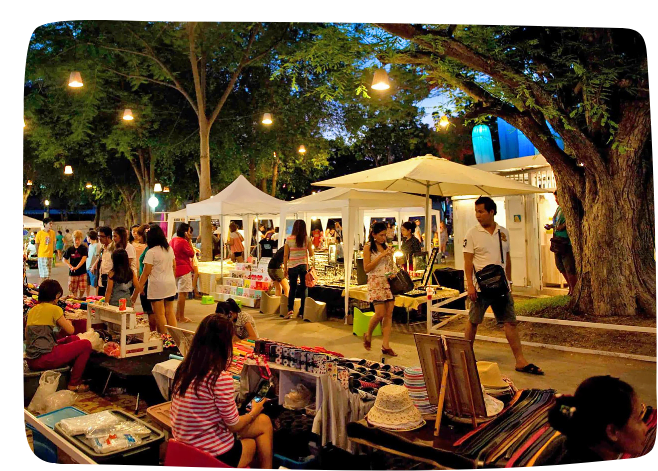 Cicada Market is a weekend night market that is open every Friday and Saturday from 4:00 pm to 11:00 pm and Sunday from 4:00 pm to 10:00 pm. The Cicada Market is a source of contemporary art in various fields, including handmade decorative items, fashion clothes, secondhand items and various performances.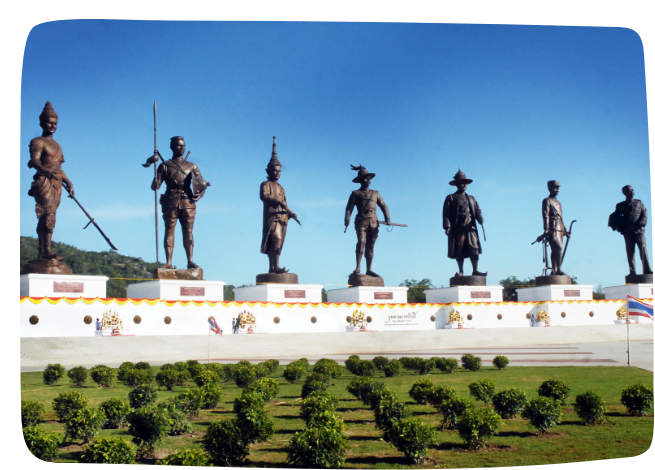 Rajabhakti Park is a historically themed park
honouring past Thai kings from the Sukhothai
period to the current royal house of Chakri.
It is also located in Hua Hin.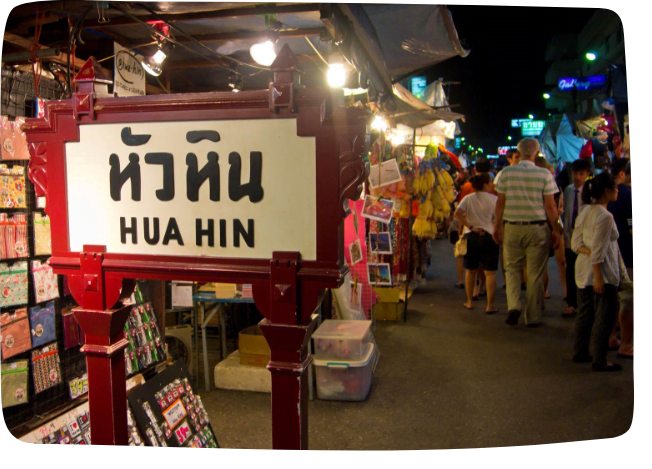 Situated in Hua Hin centre between Petchkasem Road
and the railway line, the market basically encompasses
one street that comes to life from 6:30 pm onwards,
when traders line the street with their stalls selling
various apparel, crafts, art, CDs, DVDS and cheap,
tasty food – all the good things you might expect
from a Thai market.